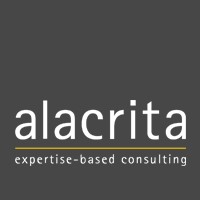 About Alacrita Consulting Inc.
Alacrita is a leading life sciences consulting firm with offices in Boston, London, and Switzerland. We deliver business development, product/drug development and strategy & commercialization support to the world's leading biotech and pharma companies.

Location: Remote

About the Fellowship:
We have an exciting opportunity for enthusiastic, entrepreneurial, hard-working individuals to gain valuable experience in life sciences consulting, as part of our business development practice, where we support biotech and pharma clients in asset search/scouting, market and competitive landscape assessments, asset valuations and due diligence, and
transactional support (in-licensing and out-licensing). This is a paid, part-time position with the opportunity to work remotely, with a highly flexible work schedule to fit around your availability and educational commitments.
You will be required to conduct intensive desk research online and in pharma/biotech industry-standard business databases. You will draw upon your scientific training and expertise to quickly gather information and synthesize scientific data in order to acquire a strong working knowledge on multiple therapeutic areas and evaluate product candidates
in preclinical and clinical development.
Through this Fellowship, you will have exposure to some of the most exciting, cutting edge science that is being developed by the biotech and pharmaceutical industry, and will gain knowledge on key aspects of the drug development process and business development in the life sciences industry.
See the full description and requirements here.
Interested applicants should email their resume and cover letter to
cowens@alacrita.com.